Wedding Gowns For Theme Weddings
When it comes to planning your ultimate dream theme-wedding, it's important to have a concept that is truly unforgettable and personal to you. For weddings that are based around a specific movie or time period, it can be fun to dress up in elaborate costumes and have your guests arrive in the right attire that allows them to also play the part. When you want to feel like a bride in a dress that works within your wedding theme, there are a few styles to choose from.
Renaissance Theme Weddings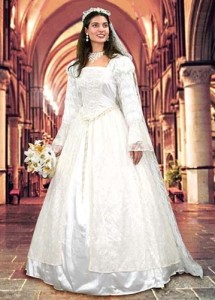 Renaissance weddings are a popular choice for the couple who enjoys the practices of the time period. Request that your guests dress in era clothes and pick out breeches and loose shirts for the groomsmen. Choose a medieval gown that comes with a crown and a long veil for a dramatic entrance when you walk down the aisle. You can find a dress that features polyester satin layers with long bell sleeves for a look that will allow you to look appropriate with the theme that you've chosen. Consider using a dramatic necklace with the gown, which can work as the focal point of the attire.
Bohemian Wedding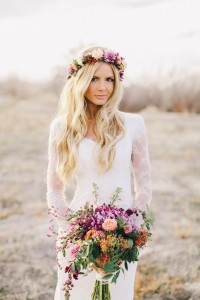 Those who are planning a wedding that is set deep in the woods can opt for a bohemian event that is plenty hippie. The style can celebrate nature with the use of feathers, floral head pieces, and leather vest jackets for the men.
For your wedding dress, choose a gown that is simple but features different textures for an eclectic look that stands out. A sheath dress is often the best choice for a style that is anything but dramatic. You can complete the look by pairing it with several bangles or an arm band.
Star Wars Wedding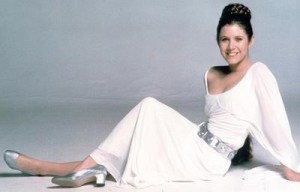 Couples who are proud "Woidz" can welcome their guests to attend a unique wedding that celebrates Star Wars. As the bride, you can consider dressing as Princess Leia in a wedding dress that has a 1970s vibe. Opt for a simple dress that features a low neckline and a chunky silver belt to look the part and still feel beautiful. The sleeves should be loose and dramatic to emulate the wedding look of the Star Wars character.
Disney Theme Wedding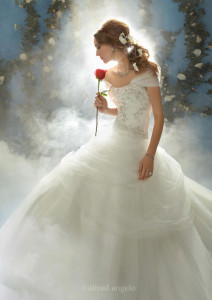 Disney theme weddings continue to be popular and are fun for all ages with characters that include Minnie Mouse, Goofy, Cinderella, and even Aladdin. The perfect dress for a Disney wedding is a ballgown, which will allow you to feel like royalty on the special day for the look of a true princess. The drama and femininity of your gown will make you and your prince the center of attention during the event while still incorporating special details.
Hollywood Glam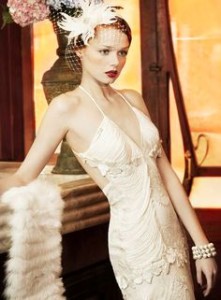 Those who want to have a wedding theme that is still glamorous and beautiful can enjoy going Hollywood glam. You can choose a sultry mermaid style dress to walk down the aisle in while styling your hair in luscious waves. A trumpet gown or modified a-line silhouette is also ideal and can be paired with a fishnet veil that partially covers your face. Use a red lipstick for makeup that will pop and can allow you to look glamorous with a vintage touch.
Pirates of the Caribbean Wedding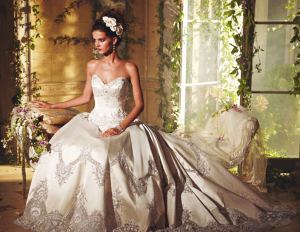 For the ultimate theme wedding, Pirates of the Caribbean is a party that all of your guests will enjoy for the swords, gold coins, and skulls. You'll even have the chance to walk down the aisle to the Pirates of the Caribbean theme song for a celebration that will be a unique take on traditional weddings. For your wedding dress, you can still feel like a bride in a gown that models the 18th century and looks like royalty. Choose a dress that has plenty of silver details, which will allow more light to reflect off of the attire. The fabric should be embroidered with plenty of details for an elaborate wedding gown that will turn heads. You can pair it with a floral headpiece, hat, or a crown and veil. The bodice or corset will also work to accentuate your waist and create a stunning silhouette that will make for beautiful wedding photos.
Harry Potter Theme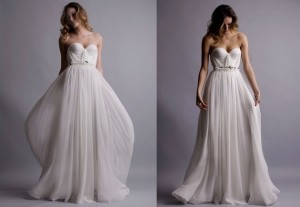 Couples who are book worms can enjoy throwing a Harry Potter wedding that features plenty of hats, wands, and owls. Guests will enjoy visiting the Sorting Hat to find the table they're assigned to while find fizzing wizzbees at their table for fun favors to take home. Choose a modified a-line or trumpet gown for a look that is feminine and still fits well within the theme. A fishnet veil can also be used to complete the look to work within the movie set.
Alice in Wonderland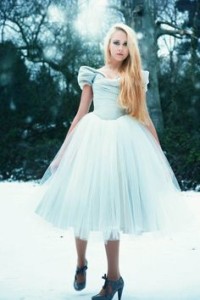 The bride and groom who are into whimsical fairytales can enjoy hosting an Alice in Wonderland wedding that features croquet, tea, and several top hats. The wedding should feel as if it's a dream with a lopsided cake and plenty of clocks that are ticking. The perfect dress for this style of wedding is a tea-length gown that is easy to dance in and isn't overly formal. You can pair it with a fishnet veil and colorful eye makeup for a look that feels like a costume and allows you to truly look like Alice for the night.